CUSTOM BRANDED FACE MASKS
---
3-Layers | Nanotex | Washable
BRANDED MASKS
FOR YOUR BUSINESS.

David Alan Clothing wants to remind everyone that kindness, empathy, and togetherness are important in times like these. Wearing a face mask can look scary and make others nervous, we get it. So we wanted to create a face mask that reminds everyone that we are all human, and we're all in this together.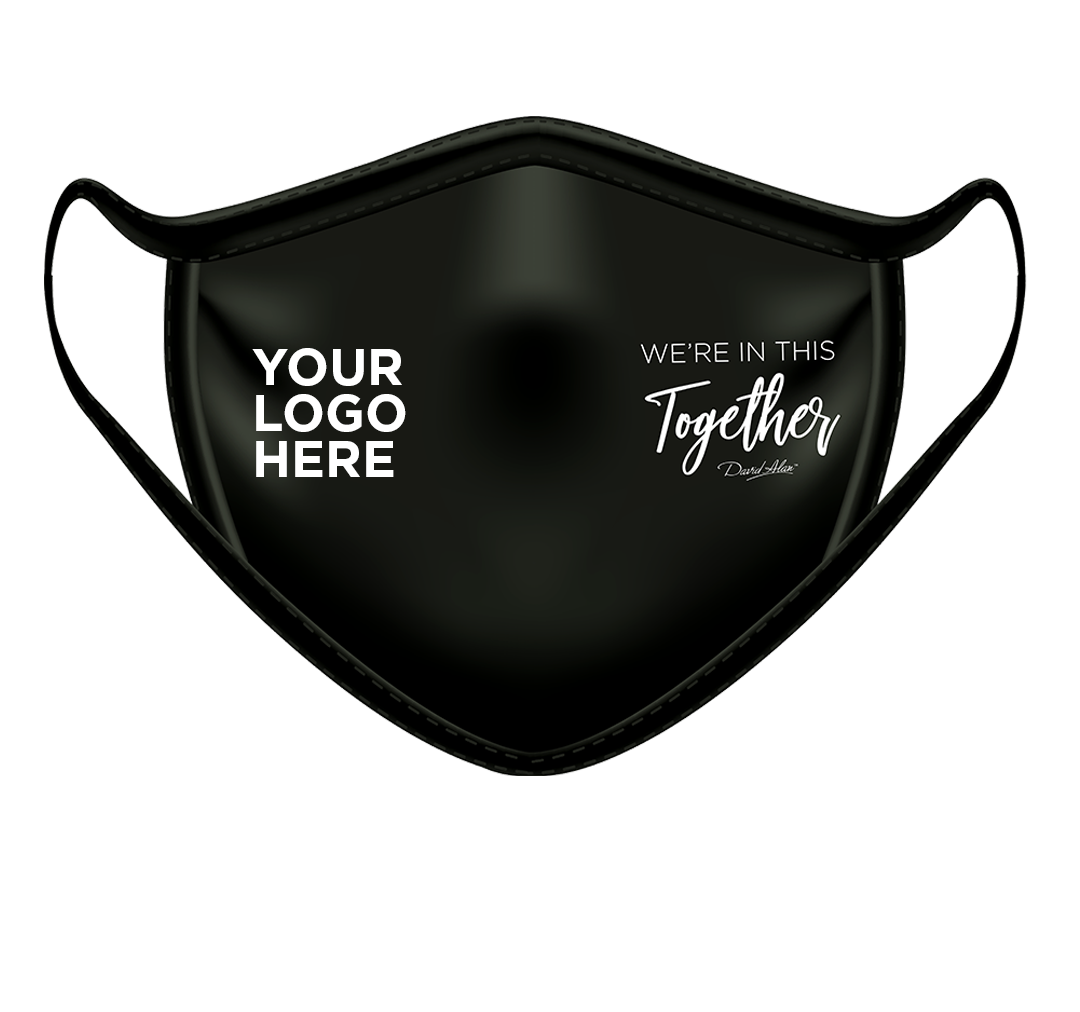 We produce custom branded masks with your logo/message added to the right cheek (first person perspective). Flanking your logo is our unifying graphic that says "We're In This Together". All quantities are available with assorted sizes. You just need to let us know how many you'd like, send us a vector format logo, and we'll send you a mock-up for your approval before moving into production.
We can accommodate all quantity requests, no matter how large
We do have a minimum of 50 masks for custom orders
Adult males should choose the male size.
Adult females and teenagers under the age of 16 should choose the women's size.
Children 3-9 yrs old should choose our children size.
Our masks are not recommended for children under 2 years of age.

WHAT ARE OUR MASKS
MADE OF?
Our 3-layer 100% cotton face masks help filter the air and guard against droplets that enter/leave through your mouth and nose, which may reduce the chance of spreading airborne and droplet illnesses. Our masks are machine washable up to 100 times. The outer layer uses cotton nanotechnology for ultra water resistance, and the inner layers are breathable and moisture-wicking cotton muslin cloth.
*Not Approved For Medical Use. Personal Use Only*
In addition to our custom branded mask service, we also offer bulk ordering of blank black masks and blank white masks - with no branding. Color options are available with a minimum order of 3,000 masks.
The COVID-19 pandemic marks an unprecedented time in modern history that will require the best of humanity to overcome. The new coronavirus has taken thousands of lives and spread to nearly every country in the world. A portion of our mask sales will go to the Coronavirus Relief Fund. This dedicated foundation's goal is to support immediate and long-term relief and recovery in vulnerable communities during one of the most challenging times we have collectively faced.
---
Please send us a message with your order for custom masks, and any questions you might have. One of our custom apparel associates will get back to you ASAP to discuss your order and begin the process. You can also simply send an email to info@davidalanclothing.com.